Are you hurry in some serious medical condition finding medical codes needed for Medicare? No, then you must be an administrator of any company related to medicine trying to medical billing the same type of diagnosis for a different patient! Or, an individual medical coder, coding out patient's medical procedures, who are going to claim their help insurance. FindACode is an online tool for help in medical billing and coding issues and we are going to provide an honest review of it.
Students also need to know about medical coding with unavailable outdated books to make a grip in medical science.
"FindACode" -One kind of browser specialized for medical coding.
With over 10,000 different types of both curable & untreatable diseases at the same time, we are almost confused about what should be the right process to cure ourselves or our near & dear once in hospital time with sudden complex illness, disorder or infection. Claiming a medical insurance is also necessary for big allowance in hospital cost. Doctor's prescription of diagnoses, symptom needed to show them to make your claim.
Keep your tone connect with us to know before buying a subscription of "Find-A-Code". Why it is not regretting to buy & how can you get help from coding of "Find-A-Code".
What is Find-A-Code?
 "Find-A-Code" is a search-engine based website contained medical billing codes. It comes with various number of detailed information of those codes. With "Find-A-Code", individuals can allocate medical process to health insurance companies in order to claim allowance.

Even certain people can use "Find-A-Code" to gather medical codes for convenience. Sitting with many pharmaceutical books just to find a term of disease, diagnoses takes out precious time. Now, as covid-19 is on our way, CDC & WHO etc. continuously collecting healthcare data's & trying to rearrange them in code.
Basically, for your benefit, "Find-A-Code" will help you find all medical billing related information at mean time. It will make your planning easy to work on quickly.
Why to use "Find-A-Code"?
Coding lead towards a completed factful health related data.
That is when websites like "Find-A-Code" come along with medical coding to redeem us from all these troubles. Medical language(terminologies) is not consumable for us to intake. That's why, in a language that is easy for you to engulf, we will present you the head-to-toe details of the "FindACode" website.
Is there any need to code medical process or report? Sending Medicare or insurance companies total health reporting card isn't sufficient! This method is common but monitoring huge amount of data of every patient happening every second is hard for complex diseases.
Codes efficiently translated them to more simple way for us to lookup.With proper tools of "FindACode" serve accurate codes giving an advantage to pharmaceutical coders.
 All information materials from trusted platform like- CDC, WHO are available.
Search, Calculation, scrubbing & validation, documentation etc. virtual tools are provided by them.
You can get to know about most of the codes easily from their website depending on patient's condition.
For students & researchers, they have a specific corner with necessary virtual tools.
Administrations can look up for a more general diagnoses for a certain disease.
They have YouTube videos, library, guiding manual, dictionaries to help out people first time on their website.
Organized webinar facility.
Outdated medical books are available within people's subscription under $1000 unlike finding & buying them with high price.
Importance of "Find-A-Code" in medical billing & Coding?
With a large number of codes specifically assorted, medical billing is suitable to sort out.
Get updated diagnosis system details, such as, ICD-10-CM, DRGs, HCCs
HCCs are kind of taxonomy codes categorized same kind of diseases in class, order to understand those better.
Get procedure details, EG- HCPCS
Codes for drugs, vaccines are available handy new,
New,
Take their Covid-19 coding, so that you can keep up all precautions beforehand.
Make your lists of notes; keep track of your personalized data
HCPCS Code lookup- healthcare common procedure coding system is available. It helps to provide particular items to look up with "Find-A-Code" search engine. It optimizes data in the time to claim for insurances.
Preciously, you can look up to every kind of medical codes briefly in "Find-A-Code" without wasting much time even for serious denial issues.
Pricing:
Using money on "Find-A-Code" is worthy for quick relief. Now if you have made your mind to buy "Find-A-Code" subscription, there an understandable list.
"Find-A-Code" have 1 pair of main subscription.
1) 3 plans to pro users:
Professional for 2 years of $400/annual contains CDI
Premium for 3 years of $650/annual
Elite for 3 years of $950/annual
Another,
2) 3 plans for payers:
Base for 3 years of $450/annual
Plus for 3 years of $750/annual
Complete for 3 years of $1450/annual with extra facility.
3) HCC (hierarchical condition category) or risk categorizing model to project hospital cost of 14 faculty advantage will take only $400/annual
4) For education purpose, they kept a special corner of subscription of $100, one time.
Get more suggestions on their website according to your concern of health problems.
FindACode Free Trial:
Ok, are you worry, that this is another article just singing monotonous tune adjacent towards a specific site, in this case probably "FindACode"!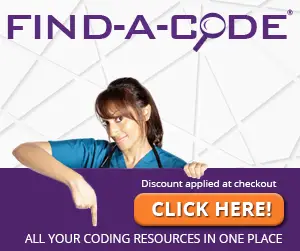 Be relaxed & find a free trail below.
FindACode.com
Then, a suggestion from this side, simply take a trial at zero cost from them. Fill up the 'free demo' form provided with company name (for coding agencies or administrations), name, phone number. Lastly, press the request demo button.
Product specialist will call you right away after submitting.
Or, just call helpline number given their to facilitated yourself a free demo click below. 

FindACode.com
FindACode Coupon Code
If you are planning to buy a FindACode subscription, here a coupon code is available for getting a 10% Flat discount on subscriptions.
End Note
As a subscription-based website, every subscriber can attain solution according to their medical state with updated, correct directional information.
Free sites seem trouble less but keep those aside from the medical world as they can play a wrong game enough to mislead you in a deep-sea. They can come with many errors as their main purpose only to gain more than to give.
 "FindACode" is unlike them ready to lead you with subscription of little amount (compared to serious health issues) as offering for sharing more professional service of medical coding by executives.
Lastly, have a secure medic-net (medical internet) search.
Related Article: