What are ICD and CPT codes in medical billing?
ICD-10 codes are the 10th edition of the International Classification of Diseases. ICD-10 codes start using from 1 October 2015.If you are looking for a challenging career in the field of medical billing and coding then it might be a little bit confusing for you regarding the acronyms in the curriculum. So you might not know about the ICD 10 Codes and various courts involved in it. So here you will find all the essential information related to medical coding.
ICD-10 is considered an acronym for International Statistical Classification of Diseases and Related Health Problems. World Health Organization (WHO) takes the responsibility of maintaining as well as publishing ICD 10 Codes. This is under the guidance of WHO to make sure that it is well utilized all over the world and is considered as a standard for diseases, social, traumatic and environmental aspects of bodily injury.
On the other hand CPT stands for Current Procedural Terminology. Perhaps this is one of the unique codes which are used to analyze, the diagnosis, methods as well as services an individual or a patient has received especially when they go through the medical appointments. To know more the CPT is well described as a code that consists of 5 digits which is a language exists between the physician's office or hospital and the insurance company which is willing to accept the medical bills. It is too good to be true that there exists a unique CPT code for every notation indicated on the chart. Compared with ICD 10 Codes the CPT codes are a bit expensive.
What are ICD codes used for?
Well if a particular individual or a patient has been supervised by the physician the ICD 10 Codes play a very important role. They are used to examine or read the patient record upon which it becomes very easy to design assign an ICD 10 Codes for each diagnosis, injury or disease physician has been noted on a chart.
In addition to that, the Coder will also have communication with the doctor or the compounder so that they will have mutual understanding and will also discuss a patient's health issue. By doing so they will have more accuracy in terms of ICD 10 Codes notation which can be easily insured. After this there the patient's chart will be prepared and will be directly submitted to the biller which is the next stage and will be helpful for the next stages. In this analysis, each and every patient's health problem including the symptom of the patient will be mentioned with appreciate ICD 10 Codes.
Once the billers go through the ICD 10 Codes notations and then convert the information into CPT codes. Theses codes are therefore used while submitting the patient's bill to any of the insurance companies. If you could consider ICD 10 Codes is for a fractured femur the biller will try to match up with the ICD for that injury with respect to the ICD 10 Codes which is an indicator of payment for the treatment.
However, the biller takes complete responsibility so as to fill the Insurance form giving exact billing information and then submit the form to the insurance company. And then they will check if there are any deductions for co-payments associated with the insurance. Finally, the patient will be billed for the balance which is not covered.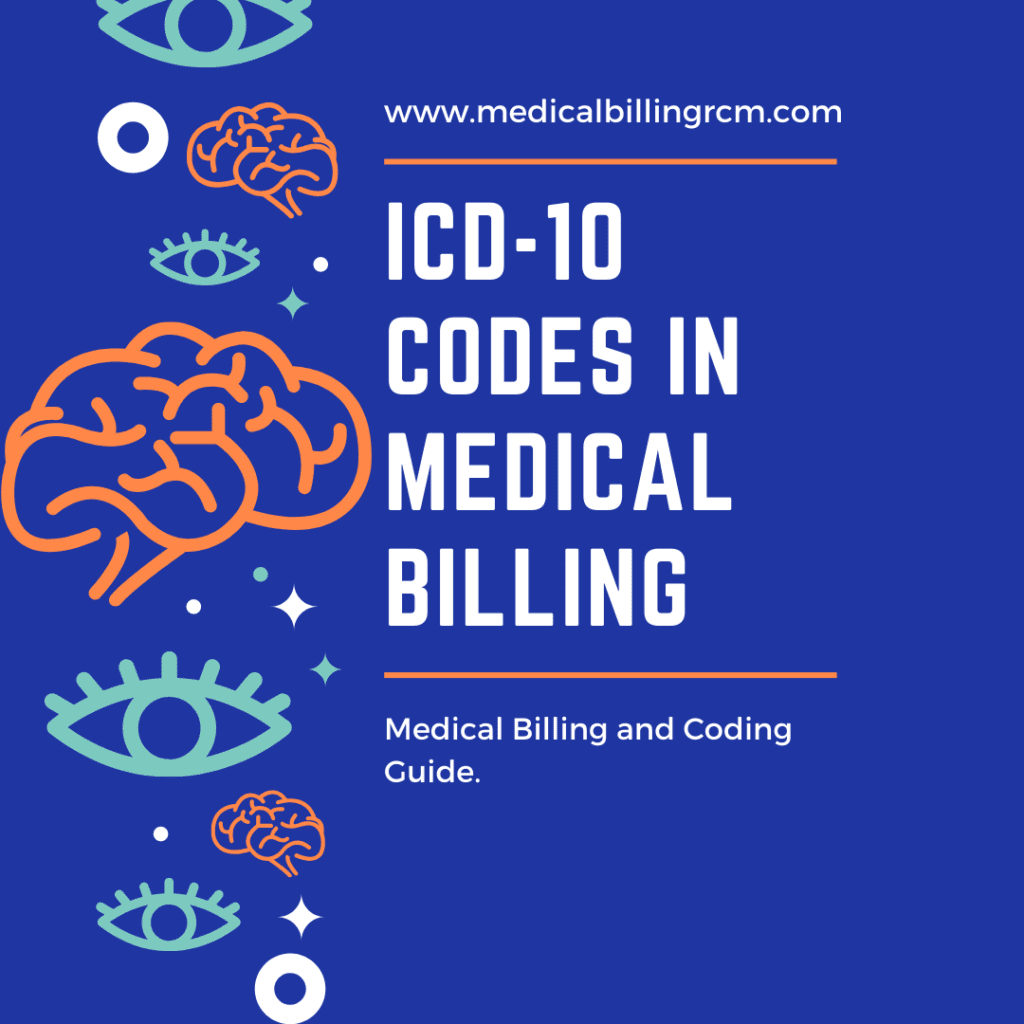 Difference between ICD-9 and ICD-10 codes
Even though the guidelines and conventions are almost similar with codes but the overall ability has been increased by organising and adding essential information to the ICD-9 and ICD-10 codes.
The major differences between icd 9 and ICD-10 codes are as follows,
The total number of digits used:
Considering the ICD-10 consists of more digits when compared with  ICD-9 codes. ICD 10 Codes consists 3 to 7 digits of code whereas ICD-9 has 3 to 5 digits of codes. Therefore the diseases and conditions which are not covered in ICD-9 have covered in ICD 10 Codes.
Basically, the ICD 10 Codes start with the alphabet; on the other hand, ICD-9 codes Mein start with either an alphabet or a number. Therefore it is very easy to distinguish between ICD 9 and ICD 10 Codes by looking at its first digit.
Well, there is no change when you consider the characters required for the second digit of an ICD 10 Codes. Both of them have a numerical in its second digit and cannot be differentiated. This could be similar for both the cases of ICD 10 Codes and ICD-9. 
Third and subsequent digits:
The third digit of the ICD-9 consists of numbers whereas the third and the subsequent digits of ICD 10 Codes may be either alphabets or numbers.
The huge difference existing between ICD-9 and ICD-10 codes is that the ease of adding new codes. ICD-10 Codes have the accessibility to create more codes making with really very easy to add recently invented diseases. On the other hand, ICD 9 is difficult to add new codes.
ICD 10 Codes are really very specific and are mainly designed to eliminate code errors which may end up with denied claims. Most of the people consider that more the specificity more will be the patient's safety as well as accuracy regarding the details of diagnosis and of course there will be fewer requests for documents that helps in supporting the diagnosis.
ICD 10 guidelines and 2020 updates
You will hear find 2020 ICD 10 Codes CM files that contain updates of the ICD-10-CM for FY 2020. Basically, the 2020 ICD-10-CM codes are useful for discharges occurring from October 1, 2019, through September 30, 2020, and for patient encounters occurring from October 1, 2019, through September 30, 2020.
The CMS has come up with FY 2020 ICD-10-PCS codes that are well updated in the website. You could find the following,
2020 ICD-10-PCS Code Tables and Index
2020 ICD-10-PCS Codes File
2020 ICD-10-PCS Order File (Long and Abbreviated Titles
2020 ICD-10-PCS Addendum
2020 ICD-10-PCS Conversion
How many ICD-10 codes are there?
There are 70000 ICD-10 procedures code and 69000 ICD-10 CM diagnosis codes are available.
Below are the list of all the ICD 10 codes,
| | |
| --- | --- |
| A00-B99 | For Certain infections and parasitic diseases |
| C00-D49 | Abnormal growth of cells-Neoplasms |
| D50-D89 | Blood and blood-forming organs Diseases and certain disorders in the immune mechanism |
| E00-E89 | Endocrine, nutritional and metabolic diseases |
| F01-F99 |  Mental, Behavioral and Neurodevelopmental disorders |
| G00-G99 | Diseases of the nervous system |
| H00-H59 | Diseases of the eye and adnexa |
| H60-H95 | Diseases of the ear and bacterial infection of mastoid air cells process |
| I00-I99 | Diseases of the circulatory system |
| J00-J99 | Diseases of the respiratory system |
| K00-K95 | Diseases of the digestive system |
| L00-L99 | Dermatology and subcutaneous tissue |
| M00-M99 | Musculoskeletal system disease and connective tissue |
| N00-N99 | Diseases of the genitourinary system |
| O00-O9A | Pregnancy, childbirth and the puerperium |
| P00-P96 | Perinatal period disease |
| Q00-Q99 | Congenital malformations, deformations, and chromosomal abnormalities |
| R00-R99 | Abnormal clinical and laboratory findings, not classified |
| S00-T88 | Poisoning, injury and certain other consequences of external causes |
| V00-Y99 | External causes of morbidity |
| Z00-Z99 | Factors influencing health status, when circumstances other than a disease, injury or external cause. |
| | |
| | |
| | |
| | |
| | |
Some ICD-10 Codes Examples
ICD 10 coding for Hospice –  Start from Z51. 5
icd 10 codes for depression start from F33.0 to F33.42
icd 10 codes for diabetes, start from E08
ICD 10 code for mental health, F01 to F99
icd 10 for pneumonia start from J18
icd 10 abdominal pain start from R10.0
icd 10 code for uti start from N39.0
icd 10 for chest pain start from R07.9
icd 10 for osteoporosis start from M81.0
icd 10 neck pain start from M54
icd 10 back pain M54.5
icd 10 right knee pain M25.561
icd 10 dementia start from F03.90
icd 10 code for gerd start from K21.9
icd 10 for cva start from 163.9
icd 10 left knee pain M25.562
icd 10 osteoarthritis M19.9
icd 10 dysphagia R13.10
icd 10 right shoulder pain M25.511
icd 10 sepsis A41.9
icd 10 weakness R53.1
icd 10 bph N40.0
icd 10 rheumatoid arthritis M06.9
icd 10 neuropathy G90.09
icd 10 osteopenia M85.8
icd 10 knee pain M25.56
icd 10 seizure disorder G40.509
icd 10 hyponatremia E87.1
icd 10 code for cva 163.9
icd 10 lumbar radiculopathy M54.16
icd 10 hypokalemia E87.6
icd 10 code for cad 125.10
icd 10 obesity E66.9
icd 10 atrial fibrillation 91/for 2020 148
icd 10 migraine G43.909
icd 10 lung cancer C34.90
icd 10 peripheral neuropathy G90.09
icd 10 dehydration E86.0
What is the difference between ICD-10 and ICD-10 CM codes?
The major difference between ICD-10 and ICD-10 CM codes are as follows,
ICD-10-CM Codes:
ICD-10-CM Codes basically consists of 3 to 7 characters.
They are not case sensitive.
In ICD-10-CM there are 68,000 codes.
They are completely used in clinical as well as outpatient settings.
The first digit of this code could be either a number or letter whereas other digits are numbers.
In the first three characters of the decimal points are used.
This has been implemented by October 1, 2013.
ICD-10 Codes:
ICD-10 Codes has 3 to 7 characters.
They are never case sensitive.
They are used only for inpatient as well as hospital settings.
There are approximately 87,000 codes available in ICD-10.
Each of the characteristics in ICD-10 codes can be any of the 34 possible values which could range from ten digits 0-9 and the 24 letters; the letters "O" and "I" which are excluded in order to eliminate confusion existing between numbers "0" and "1".
There are no decimal points used in ICD-10 Codes.
ICD-10 Codes have been implemented by October 1, 2013.
ICD 10 coding Lookup
As of October 1, 2015, there is some new set off ICD-10 Codes implemented. These are just a replacement for some ICD-9 code set. It is perhaps difficult for the Healthcare Organization in order to train and prepare for the ICD-9 to ICD-10 Codes transition so as to avoid costly delay for any sort of penalties.
The conversion of ICD-10 codes to ICD-10 will definitely help in improvising the specificity that enhances clinical diagnosis that will also create a multitude of new codes that helps a lot for learning and implementation. Furthermore to assist the ICD-10 Codes transition, they have also come up with ICD-10 code lookup, therefore it becomes very easy for you to translate for converting ICD-9 codes into ICD-10 Codes and vice versa.
Basically the ICD-10 Codes are meant for providing assistance for the Healthcare organization through the current changes as well as help the practitioners to trim and help them understand the new diagnosis code system that is implemented in ICD-10 Codes.
Related Topic